How do you get your customer to spend more time in the store? What about spending more money? Your customers want specific items. Why not make it easier to find them? A customer who can locate an item without having to seek out an associate for help is more open to suggestions about additional products, and is more willing to spend time in the store getting coupons via their mobile device. By giving your customer an app to create a shopping list or find coupons, you build customer loyalty.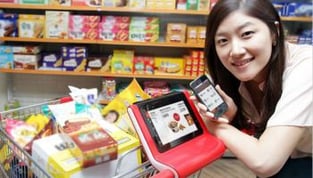 It seems incorporating technology is becoming the best way to keep people happy. Most of the top grocery stores have their own apps that allow people to create their grocery lists before stepping inside the store, and this allows grocers to go for the suggestive sell. For example, if a customer has boxes of pasta, why not suggest or give a coupon for sauce to go with it? Wegman's mobile app allows customers to scan their products at home to add to their list, and shares recipes that people can add to their cart. Apps can also calculate when a customer might be running low on something from a previous list and have a repeat cart at precise intervals to get people into the store. Grocery stores in China are even taking it a step further and putting tablets in the cart handles themselves. Synced with a smartphone, the tablets can display a shopping list, guide users optimally around stores, update in real time and provide coupons. British supermarket, Waitrose, enlists tablets to help people make drink and wine pairings, or as a destination for click-and-collect shoppers. On the more futuristic spectrum, Tesco, in South Korea, is using augmented reality to display products, which commuters in the subway or bus stop can scan using their smart phones, then schedule a time for home delivery, eliminating the trip to a physical grocery store altogether. But that's a little far from home.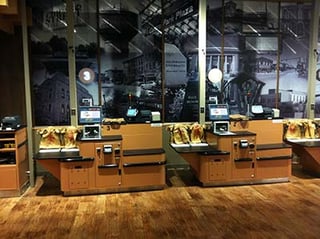 Produce weigh stations can let the customer measure out fruits and vegetables before getting to the checkout and make the process go faster, and a self-checkout can be even more time saving and hassle-free. Some stores even let the customer scan their products using a smartphone and a mobile wallet program to pay. 365 by Whole Foods and Coinstar, partnered with Seattle's Best Coffee, are developing kiosks that brew custom tea and coffee and specialty drinks respectively, and Microsoft's fast food kiosks could be implemented in the future to enable shoppers to order custom bakery goods or deli items.
The methods of incorporating technology into your store are multiplying exponentially. But if you can't afford or don't want to install a tablet in every cart or corner of your store, then even by providing free in-store Wi-Fi, you can see revenue growth, and loyalty increase 28%. Wi-Fi makes the omnichannel shopper's experience easier, and keeps them in the store longer while they research items or try to find coupons online.
From cutting-edge to 'why didn't I think of that?,' grocery tech is evolving every day. While the brick-and-mortar grocery store will likely never go away, how people shop within it is growing and changing rapidly. Why not take time today to check out how you can bring your store more into the 21st century?