Shoppers want it all.  The ability to order online, pick it up at the store, or get it the same day all need to be available. According to Chain Store Age, the favorite grocery shopping app was suprisingly, Amazon.  The reason?  Customers wanted to get discounts and rebates before heading to the grocery store.  Customers were asked to choose the factors that made them choose where they shop.  The most important factor was convenience of location first, then price second.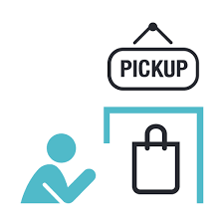 To build customer loyalty, retailers need to have a seamless digital experience, which customers not only expect, but  demandi.  In fact, 60% of customers surveyed said they would switch stores if their preferred method of delivery wasn't available.  43% of those shoppers said they would go somewhere else if their store didn't offer in-store pickup.
Speaking of in-store pickup, Amazon just announced this month that they will be opening brick and mortar stores, which is not surprising according to FierceRetail.com.  Patrick Spear explains that shoppers, "..want the convenience of online, but they also want the tactlile, emotional experience that brick and mortar affords."
Customer demand is forcing retailers to take notice and try new methods of delivery very quickly. Leave us a comment to tell us how you think shopping trends will change in the next year.